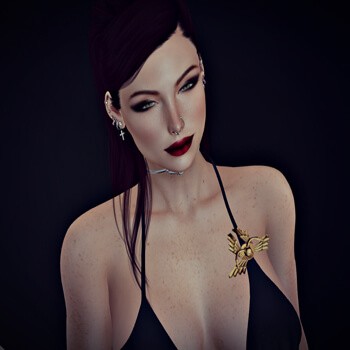 Staff Director - Unity Sparrowhawk (Sparrow)
Hello my name is Sparrow, I am just a Wisconsin girl finding her way through Second Life one day at a time. I have been coming to House of V since around 2010, well as long as I have been in Second Life. Just a shy slave to begin with, sitting in the corners and listening to music. I very much enjoyed the atmosphere and the people who frequented the House of V. As time passed I began to come out of my shell and decided many years down the road that I would like to join the staff. I applied and was hired as a dancer December 26th, 2016. I then outreached and was hired on as a Hostess April 10th, 2017. My path continued to grow and was promoted to Senior Dancer July 1st, 2017. I enjoyed all my time as a dancer and to this date you will find me on the poles time to time. Once again a wonderful opportunity was given to become an Officer of the House on September 10th, 2017. In a blink of an eye and hard work, I was asked and promoted to Staff Manager, on March 2nd, 2018. As well quickly promoted into Staff Director July 1st, 2018. My time is busy and I love it! I enjoy all the Staff at the House of V. I could not see myself anywhere else working in Second Life. I thank everyone that had their hand in my promotions and I am honored to help all those who are my staff. The stars are limitless with hard work, determination and love of the job.
Staff Manager : TheFallenOne06 Resident (Tyrathos)
Hello, my name is Tyrathos or Ty for short. I live in NY and have been coming to HoV ever since I participated in the Christmas charity auction on November of 2018. At first I would stand around at HoV and just observe everyone coming and going for about a week. While doing so, I enjoyed the atmosphere and music but most of all the people between staff and regulars. Wasn't long after when I decided to apply as an Officer for House of V because I wanted to be apart of something bigger. Being an Officer came naturally especially after some guidance from other colleagues. Through passion, dedication and hard work, I was quickly promoted to a Staff Manager. I am deeply thankful to everyone that has helped and guided me thus far. I plan to continue to work hard and keep moving up within House of V.